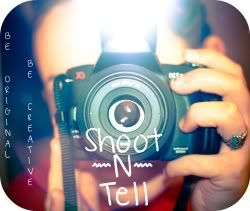 This week the theme for Shoot~N~Tell Thursdays is Looking Up! I've got plenty of pictures of the kids looking up but... I wanted to branch out a bit and post a picture of something other than my kids. A little variety is the spice of life, right?
My entry this week is a picture of Uncle Dan. He's one of my husband's best friends, he is godfather to our firstborn, he introduced me & Hubby, he was one of our groomsmen, and his firstborn was born two days after our thirdborn... and until he had a child of his own, he'd tag along with us and carry our diaper bag, push our stroller, and more or less be our "manny". He is a great friend and truly like a brother to us (and especially Hubby who is an only child). I took this picture during July Fourth celebrations at Hubby's parents' lakehouse. It was just the three of us (me, Dan, and Hubby) out for a cruise around the lake.
I love this picture for a million reasons but mainly because it exudes Dan's love for life, pride of being American, and his generally awesome attitude!
PS. My editing included: the watermark, sharpening/reducing noise and cropping. It's an almost SOOC shot! :)
Shoot~N~Tell your own photos over with Natalie & the rest of us at The Franklins!