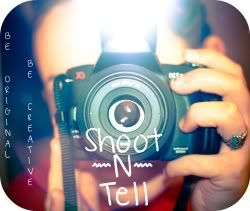 Shoot:
Tell:
If you look closely, you'll note the very thin vine attached to the very thick pumpkin stump.
During my pregnancy with the girls, we planted pumpkin seeds.
The pumpkins never grew. My husband knew I'd be disappointed.
But alas.
My father-in-law had a brilliant idea!
Starting with a tiny pumpkin, he brought a bigger & bigger pumpkin every few weeks.
Attached the vine to the stump so it appeared to be growing.
See, it was HOT. HOT. HOT. that summer.
And I was very very very pregnant with twins. I never really went outside.
Except for every few weeks, to check on our one growing pumpkin.
This continued on until a month after the girls were born when my friends came to visit.
They noticed right away that the pumpkin hadn't grown in our backyard.
Hi. My name is Meg. I'm a city child. My husband will never let me live this down.
~
Share your Circular photos at The Franklins!