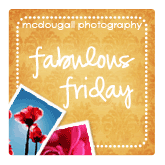 Welcome to the very first Fabulous Friday, where we share any photo from the past week that we took and think is fabulous! I like a fun challenge like this!
I took this picture at night and it came out totally black. You can check out the SOOC shot, along with some other edits,
here
. I had a great time working on it for
Ashley & Jill's Shoot & Edit Challenge
. After editing, I realized how many pictures I've discarded that were totally black, that I might have been able to save. I might not be so hasty to get rid of them in the future! :) I had some good suggestions in the comments about other ways to edit this picture. I took the advice and played around in PSE for a bit and came up with this.
It's embossed. And I think it's totally rad. :)
And thanks for stopping by my blog!